Have You Ever Tried Pornstar Martini !
Cocktail Recipes By Delhi Royale
Content
Overview | Ingredients | Cocktail Recipe | How To Drink | Mocktail
Prep Time: 3 mins | Difficulty: Easy | Serves: 1


Let's put the second part of this drink's name aside for a moment: it has no resemblance to a traditional Martini. Some say it was inspired by the fragrance of a stripper's perfume, while others say it was created by bartender Douglas Ankrah who believed it would be something a porn star would order. In any event, this crowd-pleasing mix of vanilla and passion fruit with a shot of sparkling wine, which has travelled far beyond its early 2000s roots at London's Townhouse bar to be embraced by bars all over the world, is unquestionably a star.
Pornstar Martini Ingredients
45ml Vanilla Flavored Vodka ( CÎROC FRENCH VANILLA )

30ml Passion Fruit Puree

15ml Lime Juice, Freshly Squeezed

15ml Vanilla Simple Syrup

60ml Sparkling Wine, Chilled

Garnish: 1/2 Passion Fruit
Pornstar Martini Cocktail Recipe


Method -:
Step 1.
In a shaker with ice, combine all ingredients except the sparkling wine and shake rapidly until thoroughly chilled.
Step 2.
Pour the cocktail into a chilled coupe glass.
Step 3.
Serve with a half of a passion fruit as a garnish.
Step 4.
Serve with a sidecar of sparkling wine (on the side).
A well-made cocktail can feel therapeutic.~OwlsQquotes
Here's A Video By How To Cocktail
On How To Make The Ultimate Pornstar Martini Cocktail
According to 

new

 

data

,

 the cheekily named Porn Star Martini has surpassed the minty Mojito 

as

 the most popular drink 

in

 the 

UK

.
Pornstar Martini How To Drink
To drink the Pornstar Martini, start with a bite of fresh Passion Fruit, then sip the cocktail and end with a shot of bubbly Prosecco to clear your palette.
You may use normal Sugar Syrup instead of regular Vodka if you have Vanilla Vodka.
Of course, Champagne (the most luxurious fizz) is required for the Porn Star Martini, but a dry Prosecco would suffice.
Pornstar Martini Mocktail
Trying to come up with a non-alcoholic substitute to your favourite cocktail? While a virgin pornstar may not appear to be rational, this virgin pornstar martini is! This pornstar martini mocktail is a delightful drink without any of the hangovers, whether you're avoiding alcohol, the designated driver, or pregnant.
Ingredients
Lime juice, freshly squeezed or bottled (just make sure it's only lime juice, with no added sugar)

Vanilla essence

Apple juice

Passionfruit syrup

Fresh passionfruit
Method
1. Cut the passionfruit in half lengthwise and scrape off the seeds from one side.
2. In a cocktail shaker, combine the seeds, all of the other ingredients, and a few cubes of ice.
3. Shake well before straining into a martini glass.
4. Place the unused half of the passionfruit cut side up on top of the drink.
Cheers!
Now Enjoy Your Perfect Cocktail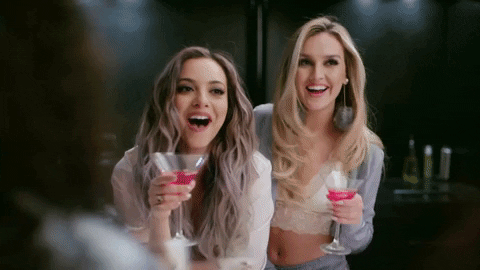 Try & Let Us Know How Was The Cocktail
Comment Below & Share The Recipe With Your Friends
Delhi Royale is among the Top 75 Luxury Lifestyle Blogs,