You Should Know These Top 5 Luxury Hotels OF Dubai
Written By Gehna Batra
Edited & Presented By Delhi Royale
Content
Overview | Top Luxe Hotel | Sea View | 7 Star Hotel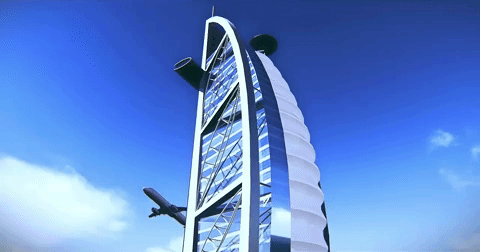 Dubai is the crown jewel of the United Arab Emirates, it is known as one of the most luxurious, expensive, fashionable, and lavish cities in the world. People love traveling to Dubai for shopping, partying, and to see some of the architectural wonders which have amazing modern architecture. The Burj Khalifa, the world's tallest skyscraper, is also located in Dubai.
If you are thinking about traveling to Dubai, you must know about these
Top Five Luxurious Hotels Of Dubai:
1. Burj Al Arab
Luxury Hotel Dubai Burj Al Arab
When you see this hotel, you will feel like it is the most beautiful place in the whole world! It is one of the most luxurious hotels in the world, it deserves to be on top. Architecture is very beautiful and it has a unique design. Do you know where this hotel is located? It is located on a man-made island, it is connected by a causeway to the mainland. During the nighttime, this hotel is lit up in several colors which look incredible. It does feature other allures in close vicinities, such as the Wild Wadi Waterpark, which is right outside of it, and the Madinat Jumeirah, which is a dining and leisure complex.
Dubai Hotel Sea View
2. One and Only the Palm Dubai
It is located on the western side of The Palm, this boutique hotel is suitable for those who give importance to sheer beauty and charm, but also peace and calmness. It has 90 rooms and 4 mansions surrounded by lovely trees and plants. These rooms are some of the biggest rooms among all other hotels present in Dubai. All compartments have personal balconies and terraces. The hotel also has a French fine-dining cafeteria featuring staff members who have been handpicked from some of Paris' steering Michelin Starred restaurants.
Staying in luxury hotels still gives me a kick, I'd stay in a hotel for breakfast and room service. ~ Jimmy Carr
Dubai Hotels On Jumeirah Beach
3. Jumeirah Beach Hotel
This luxury hotel is built near Burj Al Arab. People can go shopping in Madinat Jumeirah which is a very popular shopping center in Dubai, it is only ten minutes walking distance from the hotel. It is constructed in the shape of breaking waves, it is charming and sleek. There are all kinds of food available in this hotel so people from any corner of the world can expect to like their taste. There are also restaurants giving a perfect English breakfast, and those that serve British pub fare, and several other platforms you can try out.
Luxurious Hotels Dubai
4. Raffles Dubai
This luxury hotel is located centrally in Oud Metha, it is perfect for the people who prefer somewhat quiet places. You can visit Creekside Park which is a wonderful place near the hotel. The airport is also just 15 minutes away from the hotel. The hotel is inspired by Egyptian architecture, it is shaped like a pyramid. The furnishing and designs will make you feel like ancient Egypt. All the rooms in the hotel are very big with their terraces. The services provided by the staff are excellent. Also, the hotel emphasizes a lot of handcrafted details, such as the mashrabiya method used on the doors and shutters of bathrooms.
Dubai Hotel Famous
5. Armani Hotel Dubai
This luxury hotel is a world-famous hotel built in the name of a famous fashion designer - Giorgio Armani. It is located in the essence of Dubai which we all know is Burj Khalifa. This fascinating hotel occupies several floors in the iconic building. It well pertains to the Dubai Mall, and its view can boast sights such as the Dubai Fountain, Dubai Opera House, and Souk Al Bahar. If you'd like to spend your time in a stylish neighbourhood, you can easily access Mohammed bin Rashid Boulevard, which is the main spot for trendy cafes, restaurants, and some incredible luxury car watching. The hotel has been manufactured by Giorgio Armani himself, and as such, it is generally classy and minimalist in style. The design of the hotel features bright lighting, natural and impersonal shades, and clean lines.
Comment Below & Let Us Know
Your Favourite Luxury Hotel
Delhi Royale is among the Top 75 Luxury Lifestyle Blogs,
Instagram - @delhi_Royale
Reference
"Armani Hotel Burj Khalifa, Dubai - Hotelmanagement." Www.hotelmanagement-Network.com, www.hotelmanagement-network.com/projects/armani/. Accessed 28 Oct. 2021.
"Burj al Arab." Wikipedia, 7 Oct. 2021, en.m.wikipedia.org/wiki/Burj_Al_Arab. Accessed 28 Oct. 2021.
"Jumeirah Beach Hotel." Wikipedia, 24 Feb. 2021,