You Can't Miss These Top 5 Japanese Restaurant Delhi Royals
By Delhi Royale
Content
Sushi Origin | Top 5 Sushi Restaurant | Types Of Sushi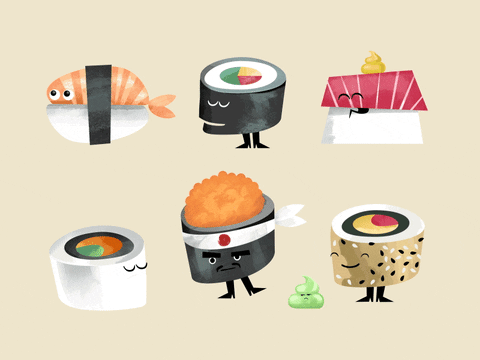 Sushi House
Origin
Sushi Is From Which Country ?
While Japan is undoubtedly the world's sushi capital – and is credited with popularising the meal - sushi may be traced back to a Chinese delicacy known as narezushi.
Sushi originates in Southeast Asia as a method of extending the shelf life of fish by encasing it in fermenting rice. A character from a 4th-century Chinese lexicon indicates pickled fish with rice and salt. People found that putting salted fish into fermenting rice preserved the seafood through a pickling process. This was the original form of sushi. Lactic acid bacilli are produced when cooked rice begins the fermentation process. To pickle the fish, the bacilli interact with the salt.
Sushi Is Made OF
Sushi is a Japanese dish consisting of tiny pieces of raw fish wrapped in rice and seaweed. Nori, a kind of seaweed, is harvested using submerged bamboo nets. While robots are used to mass-produce certain sushi, the greatest sushi is still prepared by hand. Sushi rolls are made by selecting specific varieties of fish that satisfy the highest fat content, colour, and flavour criteria. Small pieces of fish are chopped up and combined with seasonings like ginger root by the sushi chef. Sushi rolls are frequently flavoured with wasabi and soy sauce. To flavour the rice that surrounds the fish and spices, the chefs employ a kind of vinegar produced from fermented rice. Finally, part of the nori is wrapped around the roll.
Sushi Restaurant Delhi
1. Honk At Pullman
Honk At Pullman, Aerocity is a contemporary Asian bistro-style specialized restaurant. The cuisine is influenced by Asian street food, especially Chinese and Japanese with hints of Thai and Singaporean.
Honk offers authentic Pan Asian dishes that are extremely delectable to the palate. They provide a wide variety of interesting and flavorful dishes to choose from. The atmosphere is also extremely relaxing, making it ideal for spending quality time with your loved ones. The finest part is their experienced team, who treat you like royalty while serving you exquisite meals.
The dinner room is exquisitely designed to satisfy the eyes. Drunken Prawns, Kung Pao Chicken, Lobster Rolls, and Dumplings are all must-order items. Sushi rolls such as the California roll, Vegetable Rainbow, Spicy Tuna, and Lobster Roll must be tried here.
The sight of cane lights creating lovely criss-cross shadows over the ceiling is striking. It's big - 122 seats (84 indoors) but the warm colours of copper, gold, brown, and red throughout the restaurant make it feel cosy.
Location : Pullman New Delhi Aerocity
Tel : +91 9871666600
2.

Megu
Megu has a positive aura about it all the time. You're taken to a world where you're treated to the finest of Japanese flavours the moment you walk through its gilt-edged doors. It's easy to see why Megu is so popular among fans of Japanese food. Only the greatest ingredients are used here, and only the best make it to your plate. Anyone familiar with Japanese cuisine will tell you that the quality of ingredients, which in this instance are flown in twice a week from Tokyo's Tsukiji fish market, makes the difference between an ordinary and a superb dinner.
Yellowtail carpaccio, salmon tartare, and Megu original crispy asparagus are among the signature dishes recommended by Megu chefs.
MEGU is a set that includes a main dining room with a bonsho bell prototype and a crystal Buddha in a pool of water; a sushi bar; a smaller dining room with full length windows on two sides; and a tiny private dining room with silk cut out from old kimonos covering the walls.
Visit here for a zen food experience that will leave you feeling extremely light-hearted.
Location - The Leela Palace, Diplomatic Enclave, Chanakyapuri, New Delhi, Delhi 110023
Tell : +91 1139331360
International Sushi Day 




18

 June
3. Plum By Bent Chair
Plum by Bent Chair is a one-of-a-kind concept in the city, with a wide pan-Asian menu and the ability for customers to purchase whatever they see. Everything you see and admire is available for purchase, from décor to furniture to tableware. The restaurant's distinctive idea has been highlighted by several fashion magazines, making it the most Instagrammable spot in the country.
The cuisine comes from all around Southeast Asia, some of it properly confused, but the merging of sushi with Thai sauce and Chinese dumplings with western components is deliberate. In a way, the food and the furniture complement each other perfectly: ignore about provenance and focus on appearance/taste. Not only is the décor stunning, but the comprehensive pan-Asian cuisine, complete with unique dishes and unusual drinks, has been a highlight of every table.
Sagar Bajaj, a young chef from Melbourne, is in charge of the kitchen.
You may savour delectable delicacies like Seafood wontons, Nutella Banana Sushi, Mongolian Sliced Lamb, California Uramaki, Spicy Barbeque Chicken Bao, and more while sipping on flavorful drinks like Smash on the Rocks, Hell Boy, and more.
Plum By Bent Chair Aerocity Menu
Location : The Walk, Worldmark 2, Aerocity, New Delhi, Delhi 110037
Tel : +917303156444
4.

Town Hall In Khan Market
Town Hall was established in 2014 and is located in the ultra trendy Khan Market neighbourhood of Delhi, in a prominent site in the heart of Lutyen's Delhi. The area's colonial appearance and feel has been retained in the interior design, which has high ceilings, a huge centre hall, a lively island bar, and an always-bustling sushi counter.
Augusto Cabrera, a Master Chef turned Entrepreneur, developed the culinary menu at Town Hall, and his creativity is reflected via the different delicacies on offer. He has dazzled audiences in the Middle East and India for almost two decades as a maestro of modern Sushi. Quality, freshness of ingredients, and clear and distinct flavours, all trademarks of Chef Augusto's distinctive approach, can be sensed and savored throughout the menu. Chef Augusto's skill is in the unique creations of modern Japanese Cuisine, which remains his first passion, and he is extremely gifted and creative by nature.
An extensive wine list, as well as a range of Japanese Sake, Shochu, and other world favourites, are guaranteed to make any time of day, any day of the week, a memorable one.