Recipe OF Irish Coffee To Kickstart Your Weekend
Cocktail Recipes By Delhi Royale
Content
Overview | Ingredients | Cocktail Recipe | History
Prep Time: 4 mins | Difficulty: Easy | Serves: 1
Cocktail With Irish Whiskey
Although the Irish Coffee was not the first coffee drink to include alcohol, it is now one of the most well-known. The Irish Coffee is a hot, creamy classic that combines coffee with Irish whiskey, brown sugar, and lightly whipped cream to cheer you up on cold mornings or keep you rolling after a long night.
Cocktail Coffee Recipes
Ingredients
45 ml Irish whiskey ( Proper Twelve )

2 teaspoons brown sugar

Hot brewed coffee

Garnish: whipped cream & Coffee Beans
Coffee And Cocktail
Method -:
Step 1.
Fill an Irish Coffee mug halfway with boiling water, set aside for 2 minutes, and then drain.
Step 2.
In a hot glass, combine the whiskey and sugar, then pour in the coffee and stir.
Step 3.
1 inch of unsweetened lightly whipped cream on top with coffee beans.
Only Irish coffee provides in a single glass all four essential food groups: alcohol, caffeine, sugar and fat. ~Goodreads
Here's A Video By Uncle LeRoy's Farm
On How Irish Coffee Is Made In Buena Vista Cafe
History
Cocktail With Coffee
There are numerous legends surrounding the origins of Irish coffee. According to the most plausible account, the drink was created by Joe Sheridan, the head chef of the Foynes Flying Boat port restaurant in County Limerick in the early 1940s, who wanted to add a little regional hospitality to the establishment's coffee. According to legend, when asked if it was Brazilian coffee, Sheridan humorously responded, "Irish coffee."
Stanton Delaplane, a Pulitzer Prize-winning journalist for the "San Francisco Chronicle," made the cocktail popular in the 1950s while regularly visiting the Buena Vista Cafe in San Francisco. He and the bar's owner, Jack Koeppler, tried to recreate the warming elixir after sampling one in Ireland. They were successful, and Deplante wrote about the drink in his widely circulated column.
Simple Cocktail With Whiskey
On a hectic day

,

 the San Francisco pub can offer over 

2

,

000

 Irish Coffees

.
The Irish Coffee, according to bartending great Dale DeGroff, should not be a big drink. He claims that bars, particularly in the United States, grow too large, destroying the balance of an otherwise wonderful cocktail. "Make a good choice of vessel," he advises. "Libbey's smaller bell-shaped glass, which has been supplied to The Buena Vista for decades, is a great size at six ounces."
Cheers!
Now Enjoy Your Perfect Cocktail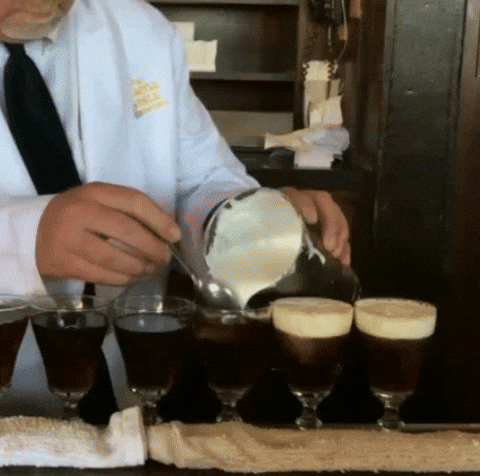 Try & Let Us Know How Was The Cocktail
Comment Below & Share The Recipe With Your Friends
Delhi Royale is among the Top 75 Luxury Lifestyle Blogs,
Instagram - @delhi_Royale
Reference
"Irish Coffee: A Classic Cocktail You Should Know." Liquor.com, www.liquor.com/recipes/irish-coffee-2/. Accessed 10 Sept. 2021.
‌
Kick Start Your Weekend With Recipe OF Irish Coffee. Try An Interesting Cocktail With Irish Whiskey. Enjoy Coffee And Cocktail Together. Do You Know Cocktail With Coffee Taste Delicious. You Need To Try This Simple Cocktail With Whiskey. Find Out More Cocktail Coffee Recipes At Delhi Royale Luxury Lifestyle Blog. Submit Cocktail Recipe At https://www.delhiroyale.in/cocktail-with-recipe