Do You Know The Most Expensive Pizza In The World !
Updated: Aug 27, 2021
Content
Louis XIII Pizza | Caviar | Ingredients | Expensive Drinks | About Chef
Louis XIII Pizza
Master Pizza Chef Renato Viola made the world's most expensive pizza for a selected crowd in Salerno, Italy's coastal resort. It's a pizza for two about 20cm, it's just $6,000 per pizza – also the most expensive on the list. The dough is made with organic Arabian flour and Murray River pink salt, and it takes 72 hours to prepare, allowing it to rest before cooking.
Three special varieties of caviar – Oscietra Royal Prestige, Kaspia Oscietra Royal Classic from the Iranian coast, and Kaspia Beluga – Norwegian lobster – and seven types of cheese are among the toppings.
Pizza Quotes
A pizza slice a day keeps sadness away. ~Jet Paacal
Ingredients
PRAWNS - RED ACCIAROLI Cilento

LOBSTER - PALINURUS Elephas

MANTIS SHRIMP - CICADA IN THE MEDITERRANEAN

CAVIAR
Caviar Meaning
Caviar is usually described as the Rolls-Royce of ingredients, a staple of haute cuisine that has maintained its unmistakably opulent status for generations. Caviar is made up of unfertilized eggs, also known as roe, that are harvested and salt-cured exclusively from the sturgeon family of fish. Other types of fish roe are common, such as the bright orange salmon roe (ikura) that is served on sushi, but only sturgeon roe is called caviar. Caviar is often spherical in nature, and the colour can vary from deep khaki green to jet black, depending on the variety. It has a subtle taste that is creamy and buttery rather than fishy or salty. It may have a nutty flavour that is similar to hazelnut. The iconic "Caspian pop" of authentic caviar happens as the roe explodes on the palate.
Oscietra Royal Prestige Caviar
Oscietra Royal Prestige is a special collection of Oscietra caviar. The eggs are big in size and have a soft flavour with a slight nutty aromatic.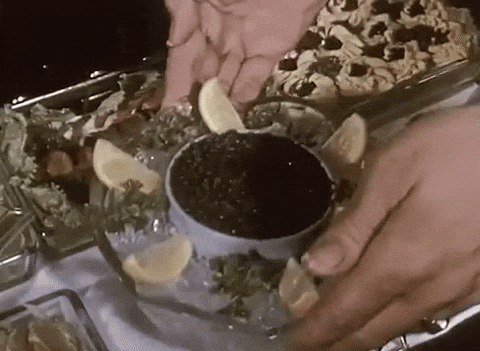 Caviar Kaspia Oscietra Royal Classic
It is named from a sturgeon that lives along the Iranian coast and south of the Caspian Sea. It can grow to be up to 2 metres long and weigh up to 200 kilogrammes. On average, it stands 1.2 metres tall and weights between 20 and 80 kilogrammes. The eggs have a rich brown appearance to them. The eggs will develop to be nearly 2 mm in diameter. It has a sophisticated flavour and a vague nutty aroma that gives it a distinct smell.
Beluga is a Danube sturgeon that lives in the Caspian Sea. It is more unusual than other sturgeons since only 100 copies are produced per year. It can grow to be 4 metres long and weigh more than 1000 kilogrammes. They are usually fished specimens weighing 40 to 300 kg that contain around 15% caviar. The eggs vary in colour from a light grey to a medium grey.
The pizza is accompanied by a selection of hand-picked spirits, including Champagne Krug Clos du Mesnil 1995, which pairs well with the lobster and caviar, as well as Carta Real Sanches Romate Finos brandy and Louis XIII cognac, which is widely regarded as the rarest and most luxurious cognac available.
Pizza is also made and served at your residence.
History's greatest Cognac. The best in the world, without a doubt. In celebration of King Louis XIII's visit to France in 1957, Queen Elizabeth II was served Louis XIII Grande Champagne at Versailles. This Cognac was used to toast Winston Churchill's election victory in 1951. Last but not least, in recent film productions, Tom Cruise has consecrated Louis XIII.
Only grapes from the Grande Champagne region are used to make this luxurious cognac, which is synonymous with consistency and exclusivity. It features a variety of eaux-de-vie blends ranging in age from 40 to 100 years.
For collectors, this is a must-have item.
CHAMPAGNE KRUG CLOS DU MESNIL 1995
Champagne Color
It's a sophisticated, well-balanced champagne. It has a golden yellow hue and a traditional Krug bouquet of Chardonnay notes. Fruity, citrusy notes abound in this complex, creamy, well-structured blend. It's great with cakes, but it's still great with more refined fish dishes and sauces.
Champagne Alcohol Percentage
12.5%
Cardenal Mendoza Sanchez Charter Real Romate Finos
Cardenal Mendoza Real Paper was created with the aim of satisfying more discerning Brandy drinkers.
Know More To Order
About Master Pizza Chef
Renato Viola is regarded as one of Italy's greatest Master Pizza Chefs. He is also a proud member of the Italian Acrobatic Pizza Team, which has won several prizes in pizza-making competitions around Italy and Europe, including Monte Carlo, Paris, Las Vegas, Miami, London, Rome, Naples, Stuttgart, Dublin, Edinburgh, and Milan.
We are all familiar with authentic Italian pizza, but with his well-known skills, he modernises this staple by incorporating both conventional pizza making techniques and fresh broad flavours. Renato also offers Classic Pizza, Pizza in Pala (Meter-long pizza), Pizza in Teglia (Pizza in rectangular tray), and Pane Pizza (Pizza Bread), among other options.
From the authentic wood fire to the all-electric oven, his mastery of pizza ovens is unsurpassed.
Renato is a certified pizza instructor who has instructed thousands of people. He has also educated many pizza chefs and provided several tips to other pizzerias as they prepare for their grand openings.